Elected Officials
Governor William Smith
Lancaster High School
Sponsored by American Legion Post 86
Lieutenant Governor Hakeem Kamara
CD Hylton High School
Sponsored by American Legion Post 364
Attorney General Franklin Gergoudis
Douglas S. Freeman High School
Sponsored by American Legion Post 84
Boys Nation Delegates
Jacob Aaron Nelson
James River High School
Galen Robert Creekmore
New Covenant High School
Samsung Scholarship
Anthony Romanello Jr.
Best Cities
Henry
Marshall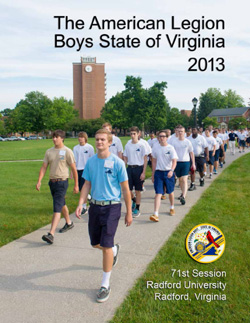 Yearbook
Additional Photographs
Schedule
View the 2013 Program Schedule
Daily Newspaper
Volume 71, Issue 1: Tuesday, June 18
Volume 71, Issue 2: Wednesday, June 19
Volume 71, Issue 3: Thursday, June 20
Volume 71, Issue 4: Friday, June 21
---
Photo Gallery
View more photos in the Yearbook, on the photographer's website and on our Facebook page.
---
---
---
---
---
---
---
---
---
---
---
---
---
---
Proud Sponsors of the 71st Session
The American Legion extends deep gratitude for the private donations and sponsors that made the 71st Session of Virginia Boys State possible. Thank you! To become a sponsor, please visit our sponsorship page.

American Legion Virginia Boys State is grateful for the participation of members and staff of our state government and their commitment to educating the next generation of citizens of the Commonwealth.