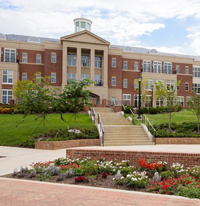 Friday, June 23, 2023 from 3-5:00 PM
The event is in Kyle Hall, the signature building marking the gateway to Radford University. Kyle is located at the corner of Jefferson Street and Tyler Avenue, Radford VA 24141. Free parking is in Lot J which is right in front of the building.
College Day is an opportunity for citizens of Boys State to talk with representatives from colleges and universities from across the country about the admissions process, college life, scholarships and financial aid.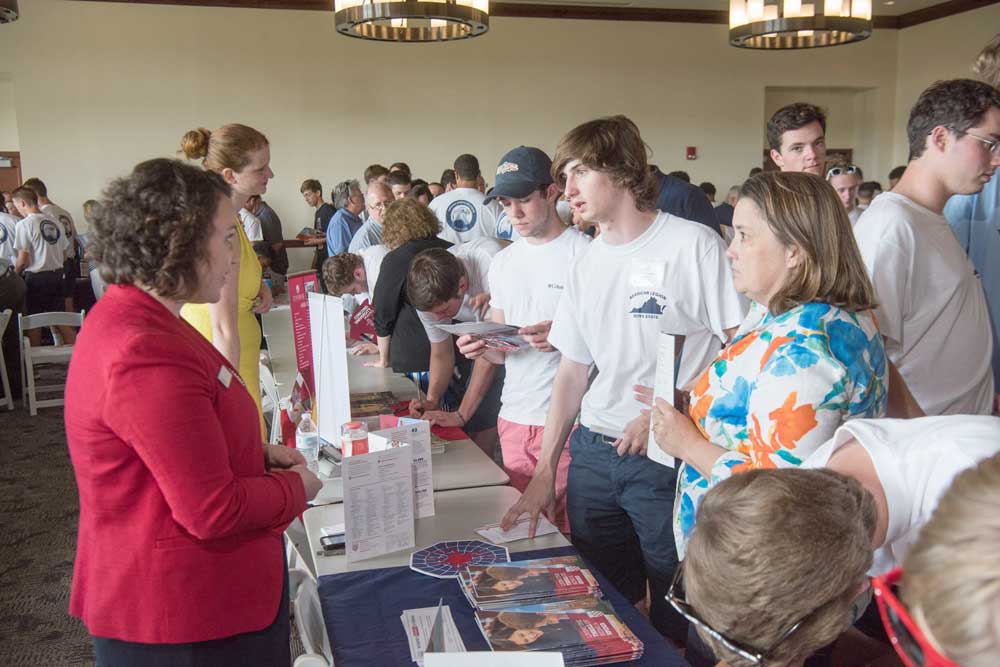 Parents are encouraged to join their sons on College Day.

Prepare for College Day
These checklists will help you determine what to ask colleges or universities before you apply.
Directions and Parking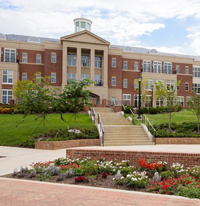 The event is in Kyle Hall, the signature building marking the gateway to Radford University. Kyle is located at the corner of Jefferson Street and Tyler Avenue, Radford VA 24141.
Free parking is in Lot J which is right in front of the building.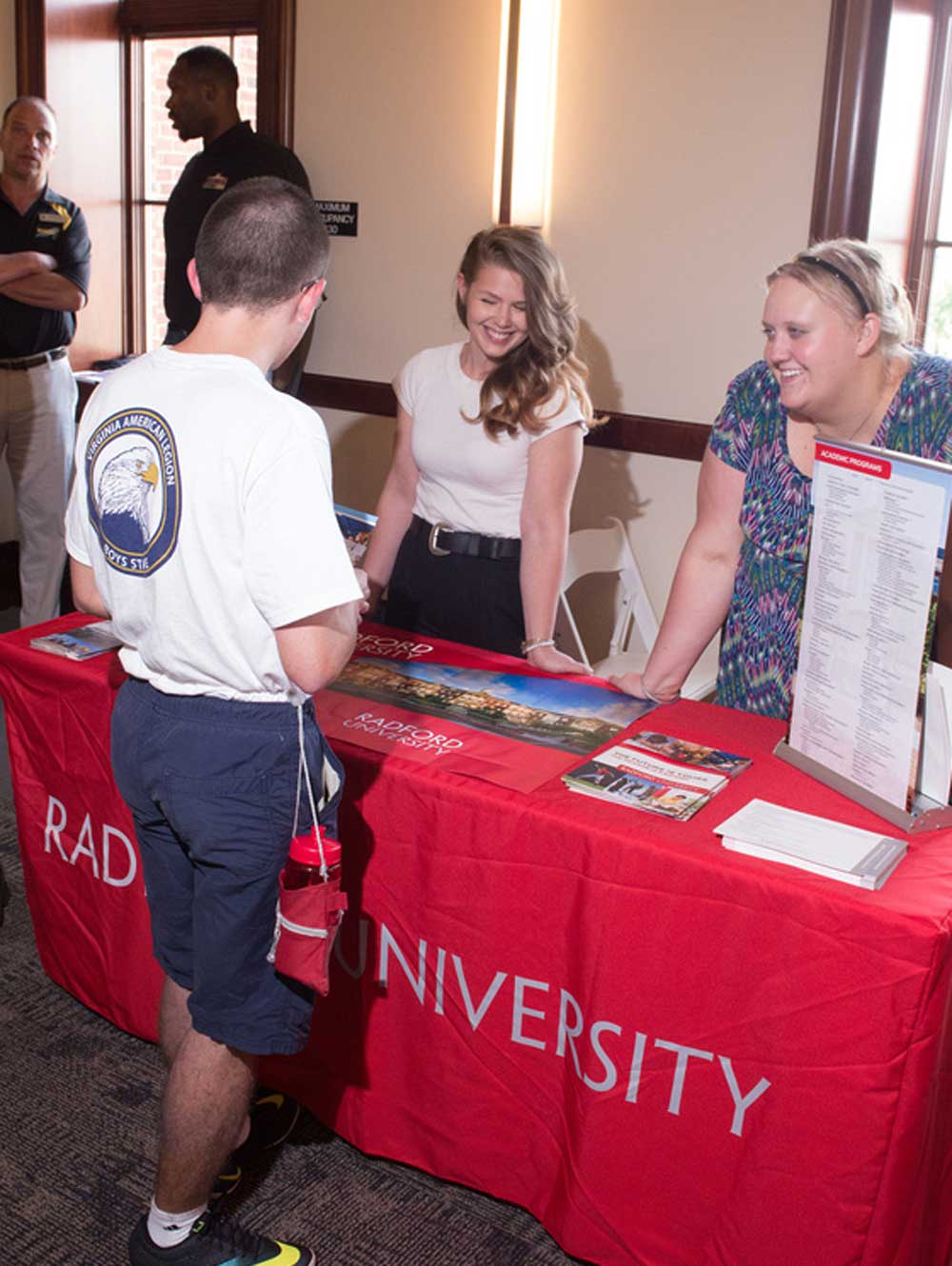 Student Aid
Students ineligible for federal student aid but who meet state financial aid program and residency requirements should complete the Virginia Alternative State Aid Application at VASAapp.org instead of the FAFSA form. Contact your financial aid administrator for more information.
Questions about VBS College Day?
Bob Brady, College Day Coordinator
Email collegeday@vaboysstate.org
Phone 540-347-7431
---
The 2019 #VABoysState College Day was a hit! With over 50 colleges and universities from around the nation attending, including every service academy, our delegates got great exposure to the different higher education offerings. This was an amazing turnout! pic.twitter.com/58e1tDGg0P

— Virginia Boys State (@vaboysstate) June 21, 2019
These schools are registered for College Day 2023
Updated 6/21/2023
These schools are sponsoring College Day 2023
Updated 6/21/2023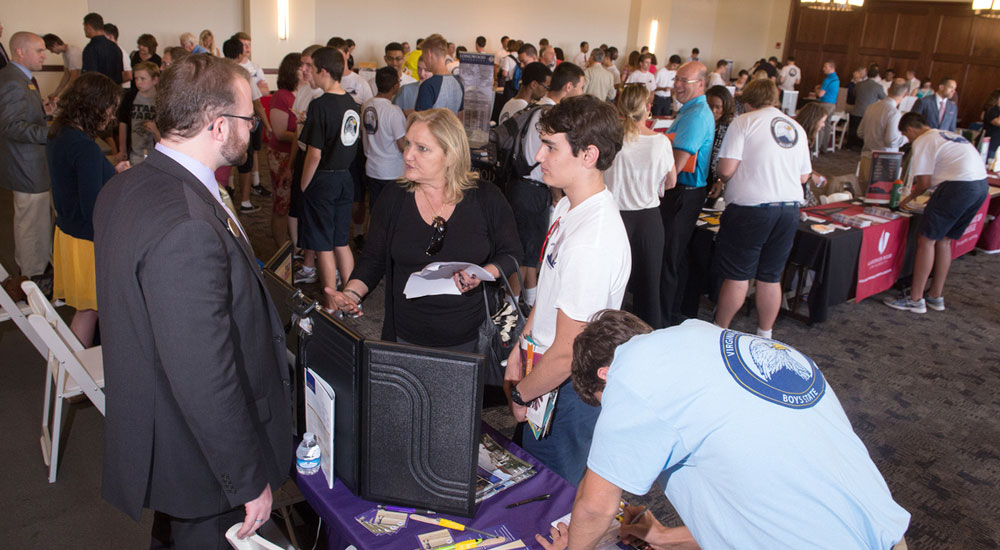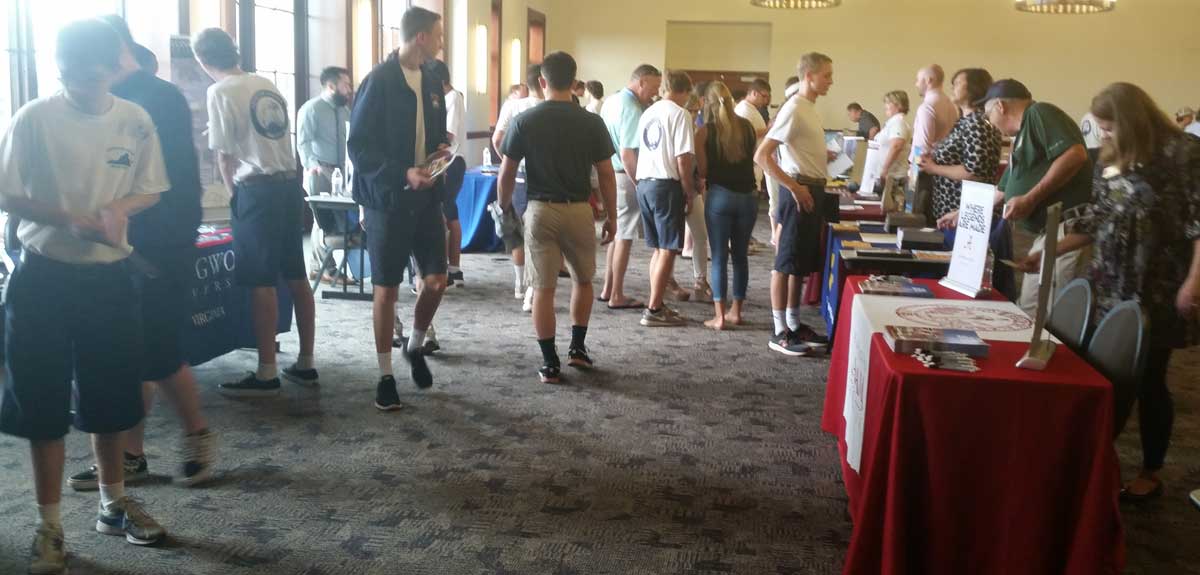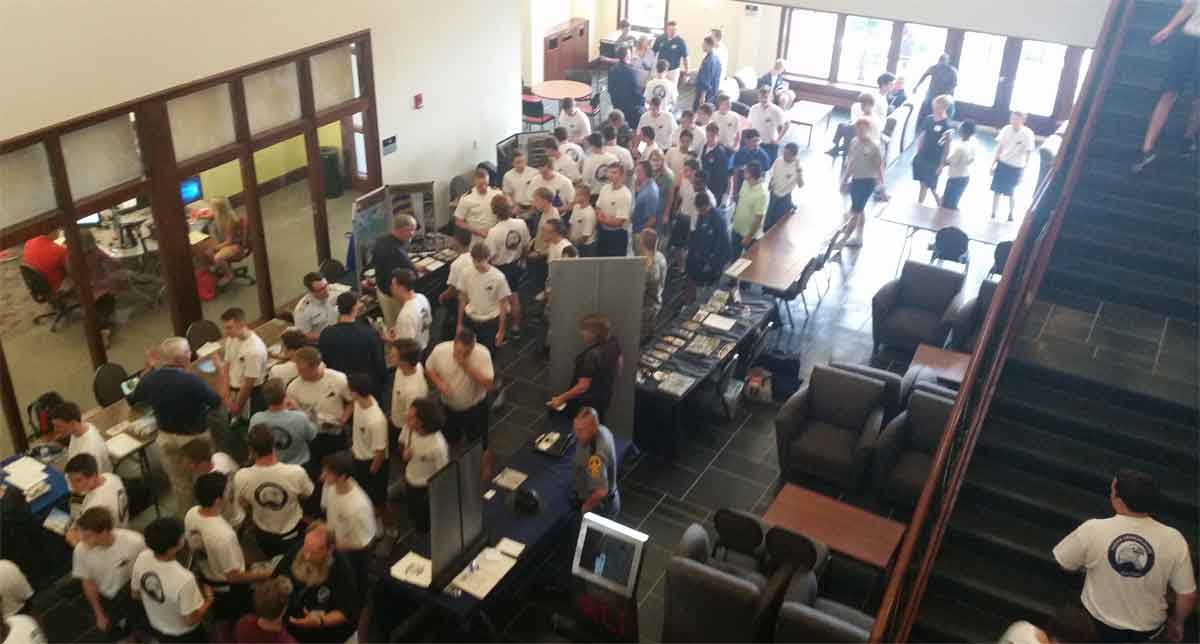 ---
Scholarship Opportunities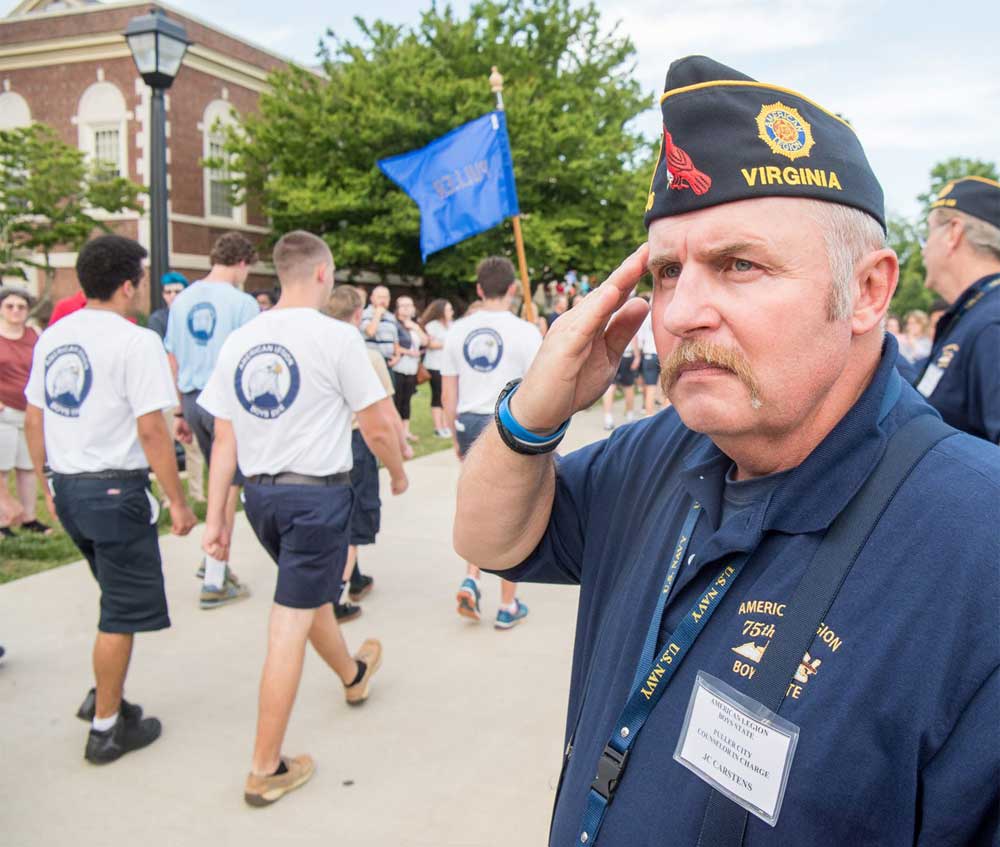 One of the rewards of being chosen to participate in Virginia Boys State is the opportunity to apply for these scholarships
American Legion Legacy Scholarship
The American Legion wants to ensure higher education is a possibility for children whose parents have been killed while serving our country. It is a civic duty to provide them with equal opportunity. The Legion offers its support through the Legacy Scholarship Fund.
Application information is on The American Legion website.
Batten Honors College of Virginia Wesleyan University
The Batten Honors College of Virginia Wesleyan inspires, engages, and prepares academically talented students to become impactful leaders, and environmental stewards in the global community. Through small classes, personalized instruction, and especially purposeful, faculty-student interaction, the Batten Honors College equips students with the knowledge, skills, and attitudes of an ethical and influential global citizen who understands the interdependence of society, culture, and the natural world.
For more information, visit Batten Honors College of Virginia Wesleyan University.
Christopher Newport University — Honors Program
Christopher Newport's Honors Program enriches the education of students in all majors by replacing most of the Liberal Learning general education requirements with interactive, interdisciplinary seminars that accelerate the advancement of academically gifted students into upper-level coursework.
Everyone learns by actively participating – even professors. You'll also be encouraged to pursue independent research, study abroad and civic engagement, all of which will enhance your classroom learning.
The program emphasizes one-on-one advising and a customized curriculum that supports your personal and professional goals. Fewer entry-level courses allow you to spend more time in independent study, research and advanced scholarship.
For more information, visit Christopher Newport University.
Christopher Newport University — President's Leadership Program
Christopher Newport University equips great leaders for the 21st century.
The President's Leadership Program (PLP) is not just an academic program. At heart, we are a community determined to better understand ourselves, how we work with others and the impact we can have in the world.
Through a combination of academic study, experiential learning and personal development, PLP will prepare you for a life of leadership, service and civic responsibility.
For more information, visit Christopher Newport University.
Edwin (Eddie) J. Dentz Scholarships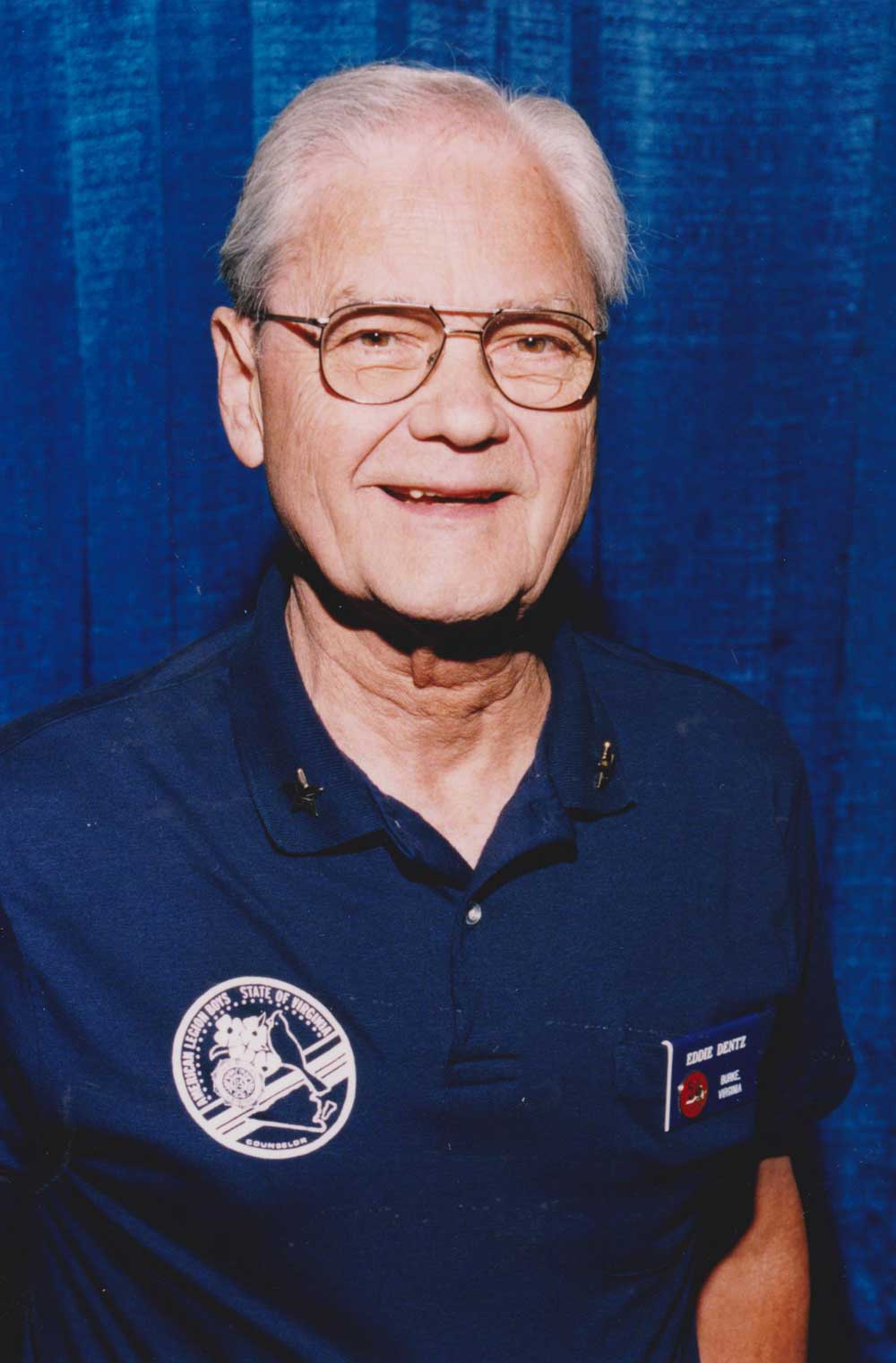 Eddie was elected to the American Legion Boys State of Virginia Hall of Fame in 2000 and was a tireless supporter of the program. As a result of his wonderful generosity the American Legion Department of Virginia has established a Scholarship Fund in his name that annually awards ten (10) scholarships totaling $15,500 to outstanding participates in the program. The scholarships are awarded to the Boys State Governor, Lieutenant Governor, Attorney General, Speaker of the House of Delegates, President Pro Tem of the Senate, Chief Justice of the Supreme Court, Delegates and Alternates to American Legion Boys Nation.
Hampden-Sydney Citizen-Leader Scholarship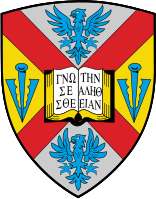 Hampden-Sydney College's founding mission "to form good men and good citizens" is still in practice today as we strive to enrich the personal and civic lives of our students. The College has had great success in preparing young men for leadership in positions with professional, civic, fraternal, religious, and political institutions and associations.
For more information, visit Citizen-Leader Scholarship.
Hood College — Founders' Scholarship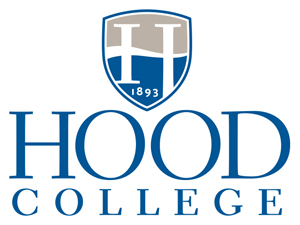 Four year, renewable half-tuition scholarship with maintenance of a 3.0 GPA to any Virginia Boys State delegate. If the delegate receives a scholarship of higher value from Hood College, that scholarship will replace the Founders' scholarship.
For more information, visit the Hood College Financial Aid webpage.
Lucian Butler Scholarship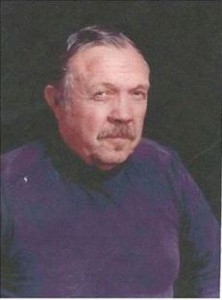 High school boys and girls who are sons, daughters, grandsons, granddaughters of members of the Virginia American Legion family who exemplify the spirit and true American values and have been admitted to an accredited four year college or university are eligible to apply. Step-sons and step-daughters are also considered.
Limited to those entering the freshman class. Awards in following years will be considered as funds are available.
The application is on The American Legion website.
Lyceum Scholars Program at Clemson University
The Lyceum Scholars program takes a Great Books approach to studying liberty, free markets, the American Founding and moral character. It is a four-year academic program open to incoming freshmen at Clemson University.
For more information, visit Lyceum Scholars Program at Clemson University.
Presbyterian College Scholarship
Presbyterian College offers a rigorous education with a built-in support network. Professors, students, and administrators work together to help each other succeed.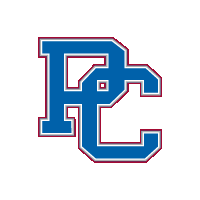 "We want our students to be adventurous and successful; competitive and compassionate. We work as a community, inspiring our students to learn, and to value service along the way. Our students are inspired for life."
A $2,500 scholarship is available to all Boys State citizens interested in studying at Presbyterian College.
For more information, visit Presbyterian College.
Regent University Scholarships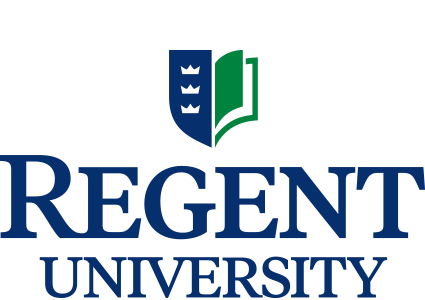 Freedom Scholarship
The $10,000 Freedom Scholarship underscores our dedication to upholding values of freedom, truth, and virtue. The scholarship will provide free housing for two years on Regent's campus in Virginia Beach, Virginia – an award valued at $10,000.
Honors College Scholarships
Regent University is offering full and partial scholarship opportunities to new students through Honors Bound: Honors College Interview & Scholarship Competition – events that include an Honors College interview and timed essay.
Endowed Scholarships
Regent is able to offer a number of university-wide endowed scholarships to graduate, professional or doctoral students through the generosity of university donors. There are no minimum academic requirements; however, competition for these awards is highly competitive. Must be enrolled full-time for eligibility.
More scholarship information can be found at Regent University.
Samsung American Legion Scholarship
2023 Letter about Samsung Scholarship from the Director
Worldwide electronics leader Samsung endowed a scholarship fund of $5 million to be administered by The American Legion in 1996. Meant to show appreciation for U.S. veterans who came to Korea's aid during its struggle against communist forces in the Korean War, the Samsung American Legion Scholarship Program established a series of scholarships derived from interest and other income from the principal amount.
Eligibility
Scholarship applications are restricted to high school juniors who attend the current session of either The American Legion Boys State program and are a direct descendant – i.e. child, grandchild, great grandchild, etc. – or a legally adopted child of a wartime veteran who served on active duty during at least one of the periods of war officially designated as eligibility dates for American Legion membership.
Samsung scholarships are for undergraduate study only and may be used for tuition, books, fees, and room and board. Winners are selected according to academic record, involvement in school and community activities, community service and financial need. Applicants who are direct descendants of Korean War veterans will receive special consideration.
Deadline
Scholarships are due no later than arrival upon a participant's arrival at American Legion Boys State. All applications must be submitted using the online application system by this time. It is not necessary to bring a hard copy of submitted application materials. Applications must be submitted online.
Apply
For more information, visit The American Legion website.
West Virginia University Scholarship for Boys Nation Senators
In recognition of outstanding achievement, West Virginia University offers a scholarship to Boys Nation Senators.
For more information, visit West Virginia University.