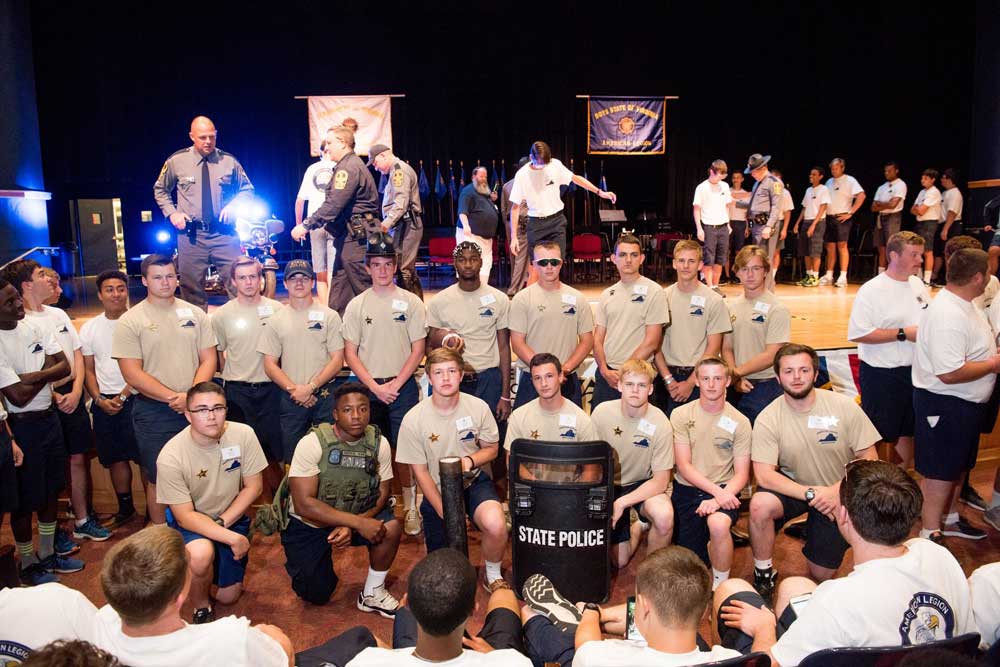 Step One
For Parents and Eligible Candidates
For Delegate Sponsors — American Legion post personnel and high school counselor only
Submit an Application for Sponsorship [PDF] (updated 3/26/2018) along with the application fee ($400.00 per delegate).
Money that accompanies the Application for Sponsorship must be sent to the Registrar prior to registration (in step two).
The Registrar will send you unique registration numbers for your candidates along with the username/password needed to register delegates online.
Step Two
Only Legion post Boys State chairpersons and in some cases, high school guidance counselors, are authorized to complete online registration.
Click on the "Register Delegates" button and enter the username/password sent to you by the Registrar (credentials are provided after payment is received).
Upon successful registration, you will see a confirmation page, and a receipt for each delegate registered is sent to the email address used for the post representative.
---
Districts and Chairperson Contact Info
Locate your hometown, city or county to determine your district. Contact your district chairperson for the rest of the application process. Each district has a unique process so be sure to contact the correct chairperson.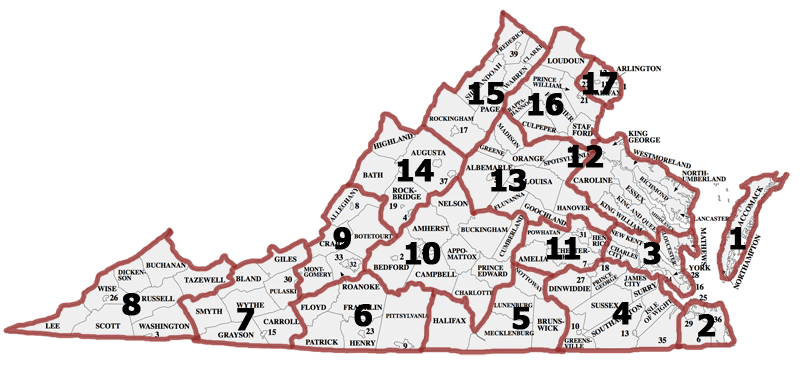 Click on the image for a larger version.
| District Chairperson | Hometown | District | Contact Phone |
| --- | --- | --- | --- |
| Bill Stramm | Cape Charles | 1 | (703) 967-8676 |
| Alonzo Scott | Norfolk | 2 | (434) 401-8501 |
| Matt Hartman | Williamsburg | 3 | (757) 245-4490 |
| Denis Confer | Suffolk | 4 | (757) 403-4261 |
| James Robinson | South Hill | 5 | (434) 447-8867 |
| James Flint | Riner | 6 | (540) 763-9367 |
| Arsenius Terrill | Narrows | 7 | (540) 726-2150 |
| Les Clevinger | Pounding Mill | 8 | (276) 963-0743 |
| Raymond Gaboy | Fincastle | 9 | (540) 798-4747 |
| Mike Gogan | Huddleston | 10 | (804) 477-5487 |
| Jim Walsh | Glenn Allen | 11 | (804) 928-5461 |
| Johnny Baker | Beaverdam | 12 | (540) 273-1544 |
| Richard Eaton | Bremo Bluff | 13 | (434) 842-6618 |
| Ron Hesson | Stuarts Draft | 14 | (540) 337-4305 |
| Frank Hillyard | Middletown | 15 | (540) 535-5177 |
| Robert Yowell | Bealeton | 16 | (540) 359-1514 |
| Michael Kimlick | Fairfax | 17 | (202) 329-9940 |
---
Info for High School Guidance Counselors
As a high school guidance counselor, you have the vital job of identifying and nominating the most qualified students to attend Virginia Boys State. It is no exaggeration to say that this is a unique and influential experience. It is important that those nominated will be dedicated to the program and follow through with their commitment to attend the session for the entire week should they be accepted. We seek students with outstanding qualities of leadership, character, scholarship, loyalty and service to their schools and communities to attend Virginia Boys State.
Nomination Guidelines
Form a committee of administrators, counselors, teachers, and former Boys State citizens.
Review the qualifications and selection process.
Seek interested students by broadcasting during school announcements and/or placing information in the school bulletin or newspaper. Review lists of student leaders (e.g. honor society, student council, class officers, clubs, athletic teams, JROTC, community organizations – 4-H, Boy Scouts) to identify potential candidates.
Consider all eligible young men in the current junior class who meet the Boys State criteria.
Prepare a list of candidates and seek their interest and commitment to participate in the program. Each applicant must commit to attending the Boys State program in its entirety. No late arrivals or early departures will be allowed. We take no-shows and cancellations very seriously.
Direct potential candidates to our website (http://www.vaboysstate.org) for more information.
Schedule and hold an informational presentation at your school for eligible candidates conducted by a Virginia Boys State staff member. To schedule a presentation, contact us.
Select candidates to nominate. Qualified candidates may be ranked for consideration and recommendation to the district chairperson.
Select alternates to nominate. Alternates will be contacted if circumstances keep a candidate selected to attend from participating in the program or as additional sponsorships are located. Always submit alternates.
Contact your district chairperson and provide him or her with your nominations and alternates.
The Boys State district chairperson grants the final authorization in determining which young men participate in the program.
Please do not announce or publish the list of candidates and alternates until approved by the Boys State district chairperson and confirmed by Virginia Boys State Headquarters. Verify acceptance by contacting the registrar.
---
Sponsorship Information — Program Fee
A sponsorship covers the program fee (plus transportation in districts providing a bus).
Sponsorship of Boys State participants must be undertaken by The American Legion Post or another civic, service, or fraternal organization, or business in your community. Sponsorships may also be funded by the school, PTO/PTA, or student organization. INDIVIDUAL OR PARENTAL SPONSORSHIPS ARE NOT PERMITTED. Neither the candidate nor the parent/guardian may pay any portion of the program fee or transportation fee and are not required to make any deposit or financial guarantee prior to being accepted to Virginia Boys State.
Most high schools have established lines of communication with their local American Legion Post or other qualified sponsoring organizations. If not, we urge you to contact your local American Legion Post or contact us for more information about sponsorships.
If you do not have sponsorships for your candidates, please let us know. We are ready to assist in finding qualified sponsors.