Elected Officials
Governor
Xaiver S. Williams
American Legion Post 31

Lieutenant Governor
Jake A. Kiggans
American Legion Post 110

Attorney General
Charles B. Jessup
American Legion Post 156
Boys Nation Delegates
Jack A. White
American Legion Post 22

Christopher D. Royal
American Legion Post 180
2018 Best City
Marshall
Join our Facebook community
Find more photos on Facebook and the complete collection can be found on our photographer's website.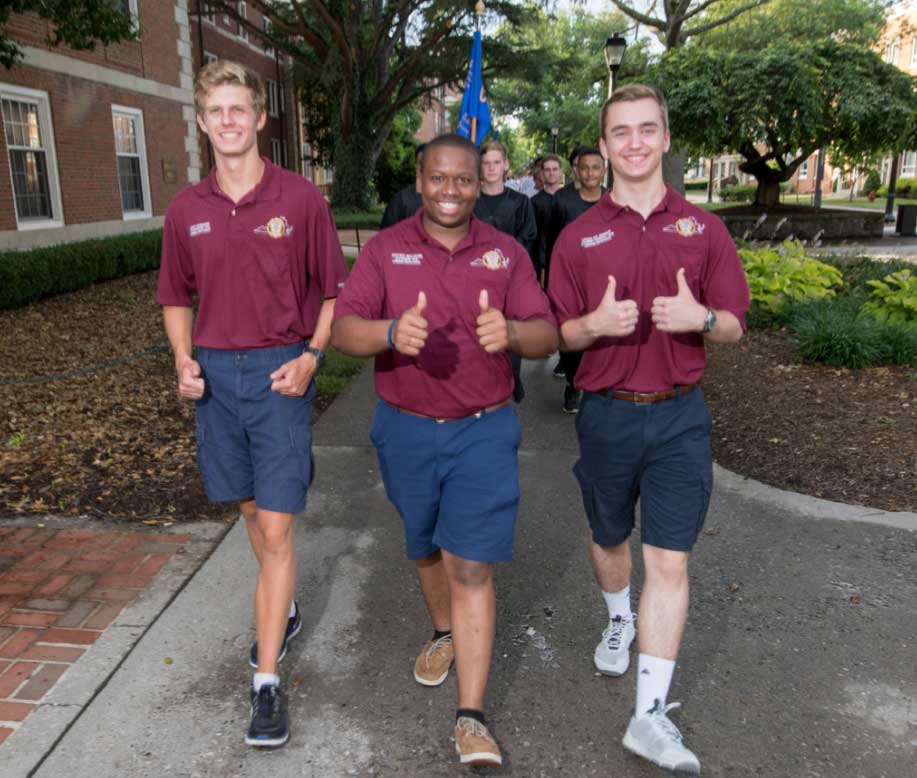 Lt. Governor Jake Kiggans, Governor Xaiver Williams and Atty General Charles Jessup, left to right at Boys State, 2018
Schedule
2018 Schedule
Updated 6/18/2018
Subject to change
Flag Book
2018 Flag Book
Posted 6/15/2018
Athletic Activities
2018 Athletic Activities
Posted 6/17/2018
Virginia Boys State Alumni
Learn more and join.
Virginia Boys State is a non-partisan program hosted by The American Legion at Radford University. June 2018 marks the 76th Session. Participants cultivate leadership skills and develop pride in American citizenship.
View more photos and videos on our Facebook page
---
Long-time Volunteer Dr. George Blume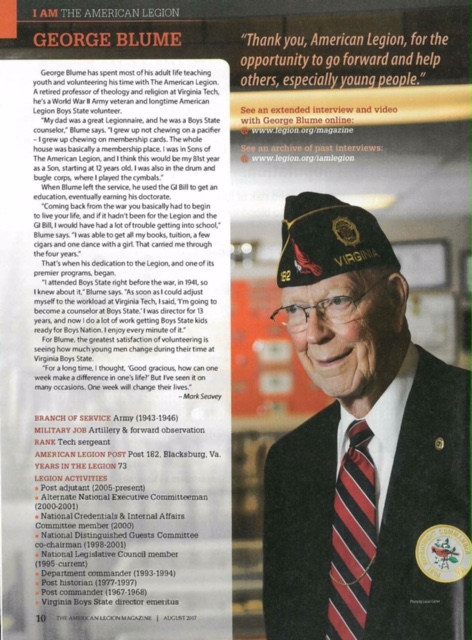 The American Legion magazine highlights the dedication of long-time volunteer and past director of Virginia Boys State, Dr. George Blume
George Blume has spent most of his adult life teaching youth and volunteering his time with The American Legion. A retired professor of theology and religion at Virginia Tech, he's a World War II Army veteran and longtime American Legion Boys State volunteer.
"My dad was a great Legionnaire, and he was a Boys State counselor," Blume says. "I grew up not chewing on a pacifier - I grew up chewing on membership cards. The whole house was basically a membership place. I was in Sons of The American Legion, and I think this would be my 81st year as a Son, starting at 12 years old. I was also in the drum and bugle corps, where I played the cymbals."
Read the rest of the article on The American Legion website
---
A Week That Shapes a Lifetime
Tom Brokaw, the former anchor of NBC Nightly News, was elected governor of South Dakota Boys State in the summer of 1957. View past Virginia Boys State governors.
---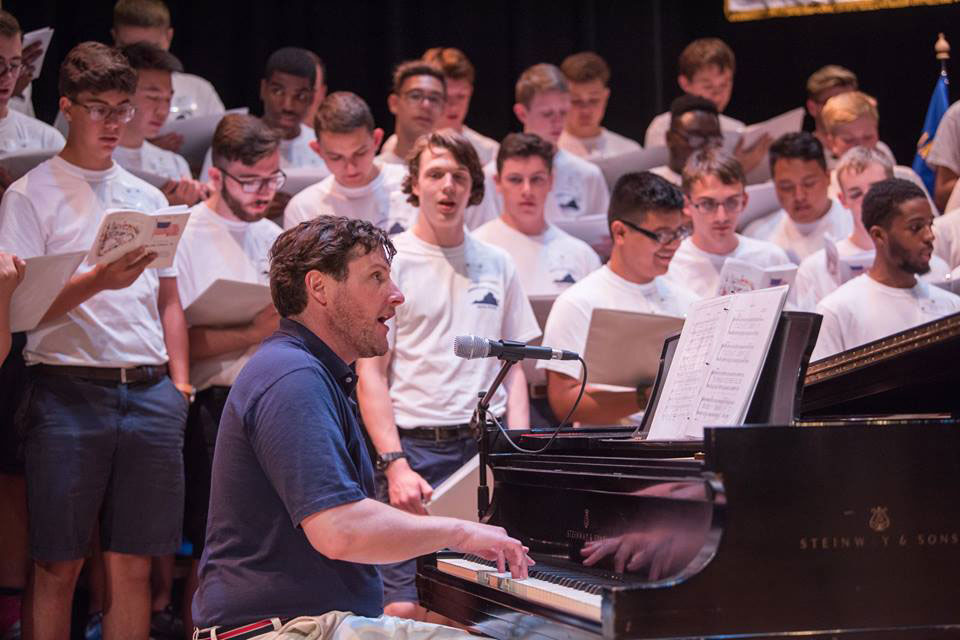 Virginia Boys State - A Week That Shapes a Lifetime
---