2013 Archive, 71st Session

Governor Bob McDonnell with key office holders, (from left) Attorney General
Franklin Gergoudis, Lieutenant Governor Hakeem Kamara, and Governor
William Smith.© AWP and VA Boys State
Elected Officials
Governor
William Smith (Washington City)
Lancaster High School
American Legion Post 86

Lieutenant Governor
Hakeem Kamara (Stuart City)
CD Hylton High School
American Legion Post 364

Attorney General
Franklin Gergoudis (Maury City)
Douglas S. Freeman High School
American Legion Post 84
Boys Nation Delegates
Jacob Aaron Nelson (Marshall City)
James River High School
Chesterfield

Galen Robert Creekmore (MacArthur City)
New Covenant High School
Coleman Falls
Volume 71, Issue 1
Samsung Scholarship
Anthony Romanello Jr.
Best Cities
Henry
Marshall
2013 Schedule
Download the 2013 Program Schedule [PDF]
2013 Flag Book
Download the 2013 Flag Book [PDF]
Cardinal Connection - daily paper
Volume 71, Issue 4: Friday, June 21
Volume 71, Issue 3: Thursday, June 20
Volume 71, Issue 2: Wednesday, June 19
Volume 71, Issue 1: Tuesday, June 18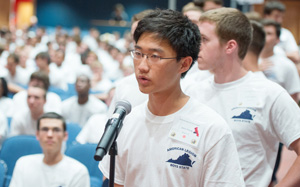 © AWP and VA Boys State
Yearbook
Proud Sponsors of the 71st Session
The American Legion extends gratitude for all of the private donations and sponsors that made the 71st Session of Virginia Boys State possible.

To become a sponsor, please visit our sponsorship page.
---
Official 2013 Press Release for the 71st Session
71st SESSION OF AMERICAN LEGION BOYS STATE OF VIRGINIA CONVENES SUNDAY
Radford, Virginia — The 2013 session of American Legion Boys State of Virginia opens this Sunday, June 16 at Radford University with about 800 high school students in attendance. "Our 2013 program will again include as speakers the governor, lieutenant governor and attorney general as well as many other state and local officials," said Michael E. Harris, Director of American Legion Boys State of Virginia. "The American Legion will continue to provide a high quality program this year at our 71st annual session," Harris added. The 2013 session of Virginia Boys State is being held in Radford this year after more than forty years in Lynchburg.
Outstanding rising seniors from high schools — both public and private — across Virginia have been chosen to participate in this annual educational program. Boys State, sponsored by the American Legion in each state, is designed to instruct select high school students about state and local government. Delegates to this intensive week-long session hear addresses from various state and local officials including the Governor, Lieutenant Governor, Attorney General, a Cabinet Secretary, nine members of the General Assembly, a state prosecutor, a judge and three local officials. All delegates are assigned to one of sixteen Boys State cities named after famous military leaders, like Eisenhower, MacArthur, and Patton. Each of the Boys State citizens will also be assigned to either of the fictitious political parties — Federalist or Nationalist — for purposes of nominating and electing candidates for mayor of each city, the Boys State legislature, attorney general, lieutenant governor and governor along with various other state and local offices.
SPECIAL NOTICE: ANY MEDIA REPRESENTATIVE VISITING RADFORD UNIVERSITY FROM JUNE 16-22 TO COVER THE 71st SESSION OF AMERICAN LEGION BOYS STATE OF VIRGINIA SHOULD REPORT TO BOYS STATE HEADQUARTERS ON CAMPUS OR CALL IN ADVANCE AT (703) 307-9049.
Principal speakers at the 2013 Session of American Legion Boys State of Virginia at Radford University
SUNDAY, JUNE 16:
8:30 p.m. — Keynote Address — Rear Admiral William W. Cobb, Jr., U.S. Navy (Retired)
MONDAY, JUNE 17:
9:45 a.m. — "Virginia General Assembly - Origins to Today" — Nine Members of the Virginia General Assembly including:
Senator R. Creigh Deeds (D-25) of Hot Springs
Senator John S. Edwards (D-21) of Roanoke
Senator Phillip P. Puckett (D-38) of Tazewell
Delegate Richard L. Anderson (R-51) of Woodbridge
Delegate Richard P. Bell (R-20) of Staunton
Speaker/Delegate William J. Howell (R-28) of Fredericksburg
Delegate James M. LeMunyon (R-67) of Chantilly
Delegate L. Nick Rush (R-7) of Christiansburg
Delegate Joseph R. Yost (R-12) of Blacksburg
8:00 p.m. — "Local Government in Virginia" — The Honorable Bruce E. Brown, Mayor of Radford; the Honorable Byron R. "Randy" Foley, Mayor of Salem; and Michael G. Hamp, II, City Manager of Waynesboro
TUESDAY, JUNE 18:
10:00 a.m. — "The Virginia Judicial System" — The Honorable R. Edwin Burnette, General District Court Judge, and the Honorable Michael R. Doucette, Commonwealth's Attorney in Lynchburg
1:15 p.m. — "The Office of Attorney General" — The Honorable Kenneth T. Cuccinelli, Attorney General of Virginia
WEDNESDAY, JUNE 19:
9:30 a.m. — "The Office of Lieutenant Governor" — The Honorable William T. Bolling, Lieutenant Governor of Virginia
THURSDAY, JUNE 20:
11:15 a.m. — "The Office of Governor" — The Honorable Robert F. McDonnell, Governor of Virginia
1:30 p.m. — "The Governor's Cabinet" – The Honorable Martin L. Kent, Governor's Chief of Staff
###
FOR IMMEDIATE RELEASE
June 13, 2013
www.VABoysState.org
Contact: Chuck Cunningham
Media Coordinator
chuckc@visi.net
(703) 307-9049