Plan ahead …
73nd Session of Virginia Boys State
June 21 - 27, 2015 at Radford University

















Boys Nation Delegates
72nd Session
Michael Donato
Lee City
Riverbend HS
Spotsylvania
Harris LaTeef
James City
Langley HS
Great Falls

View the 72nd Session in action! Join the online community.
Get your parents involved! Capture the experience by adding captions to the photo albums. Share testimonials. Network with fellow citizens, program facilitators and alumni.
Winner of Best City
LEE CITY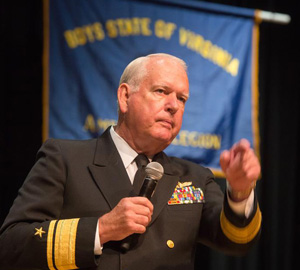 Rear Admiral William Cobb US Navy (Ret)
gives the keynote address Sunday night
© AWP and VA Boys State
Key Office Holders
72nd Session
Governor
Harrison C. Walker
Washington City
Halifax County HS
Post 99, South Boston
Lieutenant Governor
Thomas J. Cannella
Patton City
Poquoson HS
Post 273, Poquoson
Attorney General
Cayhan J. Movaghari
Lee City
Langley HS
Post 270, McLean
About Virginia Boys State
American Legion Boys State is among the most respected educational programs of government instruction for high school students. Each participant becomes a part of the operation of his local, county and state government.
At Virginia Boys State, participants are exposed to the rights and privileges, the duties and the responsibilities of a franchised citizen. The training is objective and practical with city, county and state governments operated by the students elected to the various offices. Activities include legislative sessions, court proceedings, law enforcement presentations, assemblies, bands, chorus and recreational programs.
What you will do at Boys State
You will create an effective political organization, operating from the local through the state level. The government organization provides for such features as city and state elections. The citizens are organized into two political parties: the Nationalist Party and the Federalist Party. Read more >>
If you have any problem finding what you are looking for, let us know.