Plan ahead …
71st Session of Virginia Boys State
June 16 - 22, 2013 at Radford University
Governor Bob McDonnell addressess
the 70th Session in Lynchburg
2012 © Andrew Wilds Photography
Key Office Holders
70th Session
Governor
James Payne II
Puller City
Kecoughtan HS
Post 48, Hampton
Lieutenant Governor
Zachary Sprinkle
Pershing City
Indian River HS
Post 280, Chesapeake
Attorney General
Chris Aguemon
Stuart City
Heritage HS
Post 34, Leesburg
Rear Admiral William Cobb US Navy (Ret)
gives the keynote address Sunday night
2012 © Andrew Wilds Photography
Boys Nation Delegates
70th Session
Nicholis Ball
Colonial Heights High School
Timothy Gill
WT Woodson High School
The 70th Session Yearbook is online!
Visit the 2012 Archive page to download.
The Righteous Review
Tuesday, June 19
Wednesday, June 20
Thursday, June 21
Friday, June 22
Schedule
Download the 2012 Program Schedule [PDF]
Flag Book
Download the 2012 Flag Book [PDF]

Are you on Facebook?
Join us there. Start a discussion with other alumni. Share your thoughts on the program. Share testimonials.
About Virginia Boys State
American Legion Boys State is among the most respected educational programs of government instruction for high school students. Each participant becomes a part of the operation of his local, county and state government.
Lt. Governor Bill Bolling addresses the
70th Session
2012 © Andrew Wilds Photography
At Virginia Boys State, participants are exposed to the rights and privileges, the duties and the responsibilities of a franchised citizen. The training is objective and practical with city, county and state governments operated by the students elected to the various offices. Activities include legislative sessions, court proceedings, law enforcement presentations, assemblies, bands, chorus and recreational programs.
What you will do at Boys State
You will create an effective political organization, operating from the local through the state level. The government organization provides for such features as city and state elections. The citizens are organized into two political parties: the Nationalist Party and the Federalist Party. Read more >>
Hon. William Mims, Justice, VA Supreme
Court and Former VA Attorney General
addresses the 70th Session
2012 © Andrew Wilds Photography
How to Use This Website
This website is targeted at the broad audience of people interested in the Virginia Boys State program:
High school counselors will find the list of chairpersons, the eligibility and selection process, the application process and the high school counselor pages useful.
If you are a legionaire or a chairperson, you will find the application and registration pages useful.
If you are staff, the staff page is secure (you'll need credentials to view the content).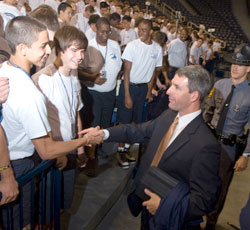 Attorney General Ken Cuccinelli greets some of
the boys attending the 69th Session
2011 © Andrew Wilds Photography
Young men who will be attending the program in June, should read the content on the citizens page and the frequently asked questions.
If you are a parent of a prospective participant, you'll find useful information throughout the site, particularly about Boys State, eligibility and selection (both for high schoolers and home schoolers), and the frequently asked questions.
Parents of citizens will find the parents page, the family night page, and the directions to Lynchburg useful.
If you have any problem finding what you are looking for, let us know.