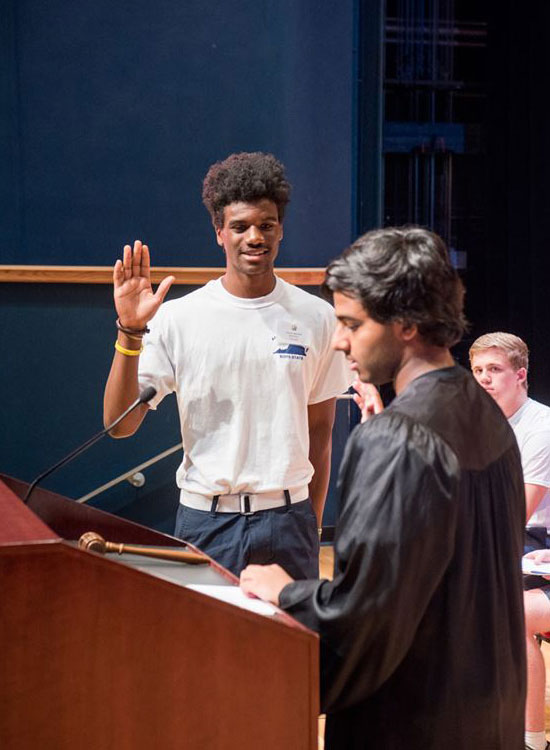 2017 Boys State Governor takes
the oath of office © ALBS
Home School Qualifications
Home schooling has positively impacted various youth organizations including the Virginia Boys State program. Potential home school candidates must have completed the 11th grade successfully in prescribed credit hour courses mandated by the Department of Education. Juniors chosen, have one more year of school remaining (or at least one more semester), in which to serve as leaders in their high schools and communities.
The American Legion's National Americanism Commission as well as the American Legion Department of Virginia have established certain qualifications for prospective Boys State citizens. These two organizations work within the respective program guidelines to insure compliance.
It is the responsibility of the home schooler's parents to contact the local American Legion Post when nominees are selected from their respective high schools, and private schools. Further, it is the responsibility of the said parents to set an interview during the dates and times set forth by the local American Legion Post's Boys State committee.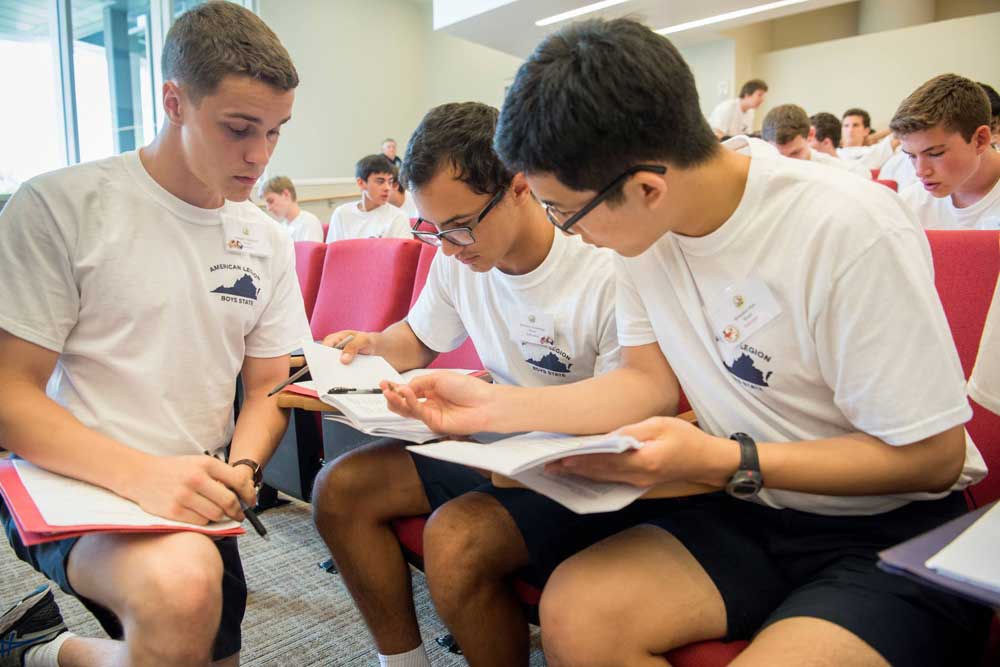 Develop friendships that last a lifetime © ALBS
Under no circumstances will a home schooler be accepted at Virginia Boys State without first having his eleventh grade courses and unity completed and approved by the division superintendent, the division superintendent's assistant, or such designated person.
Defining public school and private school students needs no further comment; however, defining home schooling is a bit more complicated. A home schooler is a student who is taught away from the public or private school, usually at home by a parent or by groups of parents. Some of these parents may be qualified to teach, while others may not: teaching in either an academic-oriented curriculum or a religious-based curriculum.
Students may be taught in non-accredited situations for 180 plus days, ranging from (1) no specific days or hours, (2) to that of free subject choice, or (3) to one of a strict battery of specific classes taught by degree holding family members or neighbors.
Admittance Procedures for Home Schoolers to Attend Boys State,
Working Through and in Cooperation with Public School Personnel
The division superintendent, division superintendent's assistant or designated person in the public school system, in a written statement, must indicate to the American Legion local Adjutant or Boys State Chairman that the student has successfully completed (or will successfully complete by June 1 at the latest), the same curriculum courses of a public school eleventh grader and to be a student in good standing as stated in the Virginia Code, § 22.1-254.1. Declaration of policy; requirements for home instruction of children
3 units of English
2 units of Math
2 units of Science
2 units of Social Sciences

Virginia and U.S. History
Virginia and U.S. Government

2 units of Health and Physical Education
1 unit of Fine Art or 1 unit of Vocational Training or 2 electives
5 other electives
The document verifying units completed can be sent to the local Post by school officials. Alternatively, the parents of the home schooled applicant can present the document to the local Post Commander or Adjutant. Names of these Legionnaires can be obtained by calling the Legion Department Headquarters in Richmond at (804) 353-6606.
Admittance Procedures for Religious-based Home Schoolers
Following a Non-academic Program
Under no circumstances will a home schooler be accepted at Boys State without first having his 11th grade courses and units evaluated and approved by the earlier stated public school officials or by the Virginia Boys State Educational Committee composed of educators and other professionals.
Home schooled youth following a religious-based curriculum must also be judged by the same academic course level of attainment as 11th graders attending the public schools. In this situation the Boys State Director, Michael Harris, must approve the home schooler's scholastic curriculum records.
Parents of all home schoolers, public, private or religious-based, might want to include, along with curriculum data, any other test scores, sport activities, organizational membership, community involvement, patriotism and leadership examples for review.
American Legion Interviews of Home School Applicants
It is the responsibility of home school parents to find out when the local American Legion Post will be interviewing Boys State nominees from the local high schools. All Boys State nominees are interviewed by some forum and home schoolers must compete in this process at the specified time.
All delegates selected to attend Boys State have their tuition paid for by a variety of sponsors; these include the American Legion, public and private schools, fraternal, business, civic groups and others. Home schoolers, if selected to attend, receive the same tuition as those from other schools.
The final selection of all Boys State delegates is determined by each individual American Legion Post, judging the merits of every invited candidate.