Eligibility and Selection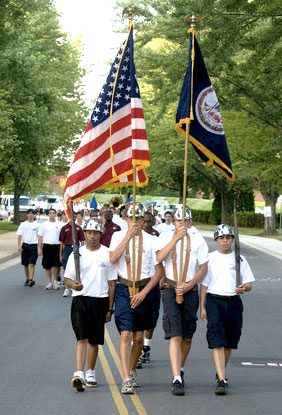 © ALBS
Eligibility Qualifications
Only young men, who have successfully completed their junior year of high school and have at least one semester of high school remaining, are eligible.
Home schooled boys are eligible provided they meet these qualifications: Home School Qualifications
Any boy who has previously attended a Boys State is not eligible to attend a second session.
Outstanding qualities of leadership, character, scholarship, loyalty and service to their schools and community are considered.
The applicant should exhibit an interest in the governmental process.
The applicant will have above average scholastic standing.
The prospective delegate and their parents must be residents of the state of Virginia.
Selection Process
The high school counselor where eligible boys are enrolled, recommends a list of candidates to members of your local American Legion Post. Legionnaires at these posts interview the list of Boys State candidates.
The legionnaires, Virginia Boys State representatives, select delegates for the next session and verify that all eligibility requirements listed above are met. The final candidates chosen to attend Virginia Boys State are selected by American Legion Posts … not by high schools.
Those not selected as primary delegates may become alternates if so designated by the interviewing American Legion Post in cases where the primary delegate cannot attend. Again, those designated as alternates must meet all requirements to attend the program.