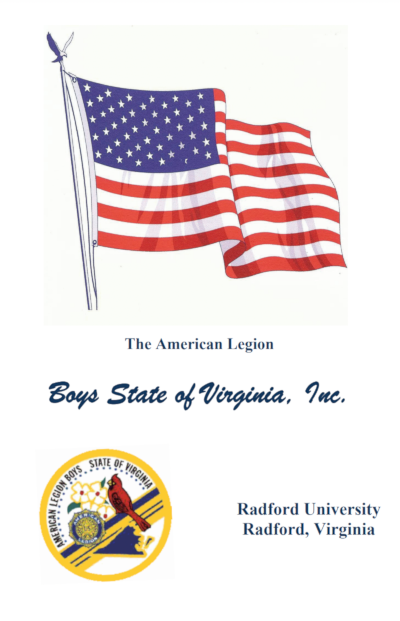 For Citizens
The materials on this page will be updated as they become available.
Pledge Card
Medical Form
Parental Consent
The Pledge Card is mandatory for all Boys State participants. Be sure to read about Health Insurance coverage below.

Download the Pledge Card [PDF]
(updated 6/2/2018)
Program Schedule
View the 2018 Schedule [PDF]
Updated 6/18/2018
Subject to change
Athletic Activities
Athletic Activities [PDF]
Posted 6/17/2018
Flag Book
The Flag Book is the one document that covers the Boys State experience in a booklet format. These handbooks are distributed to each citizen attending Boys State on the first day of the Session.

View the 2018 Flag Book [PDF]
Health Insurance Coverage
As stated on the Pledge Card, delegates bring a photocopy of their health insurance card. The Boys State insurance policy covers delegates while at the program but is in excess to any and all other insurance. Those without health insurance coverage should search the internet for "Short Term Insurance Coverage" and obtain a policy. Attach a printed receipt to the medical form. Delegates should also bring a photo ID to be used along with the health insurance card.
Transportation
The American Legion Post that is sending delegates to Boys State may arrange/provide transportation to and from the program. If the Post does not have the resources to transport the delegate, it is the delegate's responsibility to make his own arrangements.
Basic Rules and Regulations
Governing Participation in The American Legion Boys State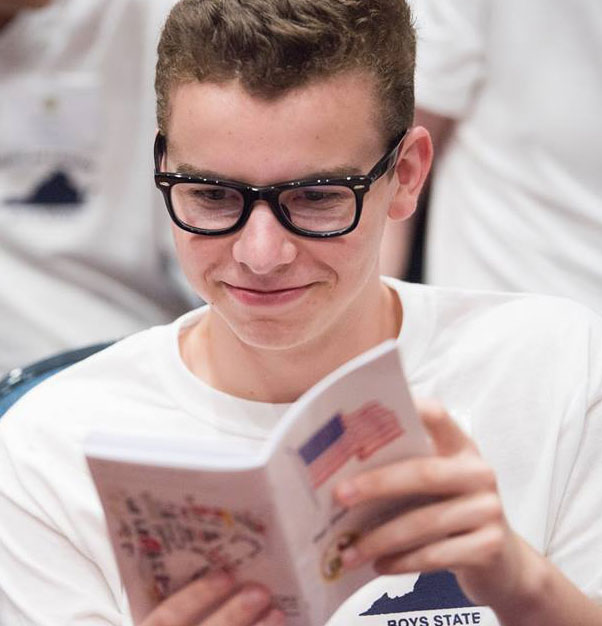 © ALBS
I will obey all rules, regulations, and directions as established by the officials of the program.
I will render proper respect to the Flag of the United States, at all times, including during the National Anthem.
I will perform my duties as a Boys State citizen to the best of my ability and endeavor to conduct myself as a gentleman, also as to honor my parents, school, community, state, and Nation.
I will participate in all aspects and events of the program as scheduled.
I will not actively campaign for any Boys State office prior to my arrival for the program.
I will not bring or circulate campaign literature or material prepared prior to attending this program.
If elected to an office, I will agree to serve in that position to the best of my ability.
I will not leave the Radford University campus without permission and I will wear my official Boys State uniform when permitted to be off campus.
I will proceed in an orderly manner when moving about the campus in groups.
I will not possess, obtain, or use any firearms, fireworks, or explosives while attending the Boys State program. I will not possess any weapon while attending the Boys State program.
I will not obtain, possess, consume, or in any other way use alcoholic beverages, unlawful drugs, or proscribed substances while attending the Boys State program.
I will not participate in any form of gambling while attending the Boys State program.
I will not use tobacco in any form while at Boys State.
I will not damage any property or any facility on the Radford University campus. I understand that I will be responsible for the cost of any repairs from damages that I am deemed responsible.
I will not keep or operate an automobile or motorcycle during the week of this program. I will not ride in or on such vehicle unless authorized to do so by a Boys State counselor.
I will endeavor to arrive for the Boys State program between the hours of 11:00 AM and 2:00 PM on Sunday and remain through the completion of the program on the following Saturday. I understand that I am not to leave for any reason other than an emergency. I understand that I must secure prior approval from the Director or his designated assistant before I may withdraw from the program.
Note: You may bring a cell phone with you to Boys State. You will only be allowed to use your cell phone during free time periods.