Virginia Boys State Districts and Chairperson Contact Info
How to Apply
Using the map below, locate your hometown, city or county to determine your district. Contact your district chairperson for the rest of the application process. Each district has a unique process so be sure to contact the correct chairperson.
Review this material - eligibility, selection process and the application process. There is lots of useful information throughout this website.
Info for high school counselors.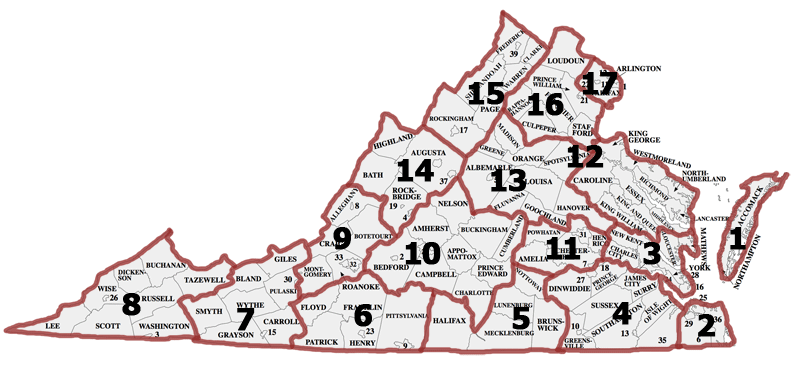 Click on the image for a larger version. Image opens in a new window/tab. If the map is wrong, email info@vaboysstate.org. Thank you.
If you have any problem getting in touch with your district chairperson, let us know.
| District Chairperson | Hometown | District | Contact Phone |
| --- | --- | --- | --- |
| Bill Stramm | Cape Charles | 1 | (703) 967-8676 |
| Alonzo Scott | Norfolk | 2 | (434) 401-8501 |
| John Burrell | Hampton | 3 | (757) 218-1728 |
| Saul Moore | Emporia | 4 | (804) 348-0237 |
| James Robinson | South Hill | 5 | (434) 447-8867 |
| James Flint | Riner | 6 | (540) 763-9367 |
| Don Lawson | Wytheville | 7 | (276) 228-3817 |
| Les Clevinger | Pounding Mill | 8 | (276) 963-0743 |
| George Blume | Blacksburg | 9 | (540) 552-0505 |
| Mike Gogan | Huddleston | 10 | (804) 477-5487 |
| Jim Walsh | Glenn Allen | 11 | (804) 928-5461 |
| Johnny Baker | Beaverdam | 12 | (540) 273-1544 |
| Richard Eaton | Bremo Bluff | 13 | (434) 842-6618 |
| Ron Hesson | Stuarts Draft | 14 | (540) 337-4305 |
| Doug Ramos | Maurertown | 15 | (540) 635-8519 |
| Robert Yowell | Bealeton | 16 | (540) 359-1514 |
| Michael Kimlick | Fairfax | 17 | (202) 329-9940 |