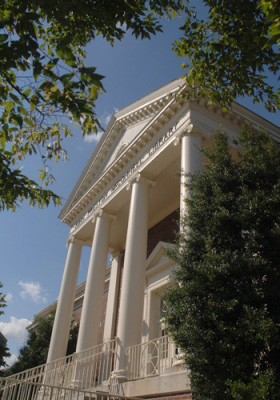 McConnell Library on Radford University campus
Directions
For Admisions Day
Our host is still in the planning stages for 2014 Check-in. Once available, we will post the name of the campus building where 72nd Session Admissions is located.
Please be a respectful guest.
Don't park on curbs in the bus drop off area.
Radford University is located on
911 East Main Street in Radford, Virginia 24142.
Radford is just 36 miles southwest of the city of Roanoke, Virginia, and within easy driving distance of many mid-East Coast metropolitan areas. Richmond is only a three and a half hour drive, while Washington, D.C., and the Tidewater area are only about four and a half hours away.
By Car
From Interstate 81, take Exit 109 onto Route 177/Tyler Avenue into Radford. At the third traffic light, turn right onto Jefferson Street. At the next traffic light, turn left onto East Main Street. The main university entrance will be on your left, at the intersection with University Drive. As you turn into the parking lot, Martin Hall is on the right, and the Admissions Office is in Martin 115. If parking is unavailable there, proceed across the bridge on University Drive to Parking Lot E on the left. Visitors to the Dedmon Center should continue on University Drive to reach the facility.
Travel By Air or By Bus
Roanoke Regional Airport and Greyhound Bus Lines provide connections to cities throughout the country. From the airport, take Interstate 581-North to Interstate 81-South and follow the directions for traveling by car. Advance reservations for limousine service to and from the airport may be made by calling Blacksburg Limousine Service at 540-951-3973.
Nearby Airports
Several other airports are within driving distance of Radford University. Charlotte-Douglas International Airport is two and a half hours away in Charlotte, N.C., and Richmond International Airport is three and a half hours away in Richmond, Virginia.
Resources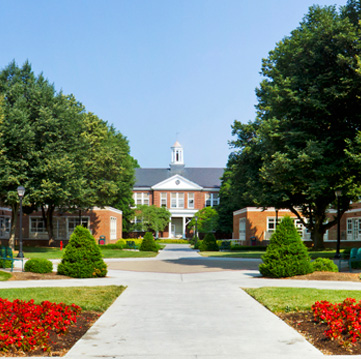 Governorís residential quad featuring Whitt Hall at the end
For College Day
Directions to the College of Business and Economics [COBE]
from I-81 take Exit 109 towards Radford
at the third traffic light turn right onto Jefferson Street (COBE building will be visible at this intersection)
turn left immediately into Parking Lot J (shown below) BEFORE passing the large COBE building
enter through the main entrance (shown below in center) and proceed upstairs to the multipurpose room on the right
there is an elevator past the main staircase to the right
see photo below
If you arrive before 3:00 pm on Friday, plan to park in Lot E (see parking map).
Directions to Lot E
proceed down Jefferson Street
at the traffic light turn left on Main Street
turn right at the next light onto University Drive
take the first left into Lot E
Radford University Campus and Parking Map
Photo of COBE and the parking lot in front of from the Tyler/Jefferson intersection
College of Business and Economics [COBE], Radford University, College Day is on the 3rd Floor